Results from semi-structured interviews
By Maarten Falter et al
Taken directly from: European Heart Journal Digital Health
While many trials have investigated telerehabilitation, few have studied participation rates in conventional cardiac rehabilitation non-participants. The aim of this study was to identify the percentage of patients that would be willing to participate in a TR programme to identify the main perceived barriers and facilitators for participating in TR.
Two groups of patients were recruited: cardiac rehabilitation non-participants and cardiac rehabilitation participants. Semi-structured interviews were conducted.
Results are demonstrated in the visual abstract.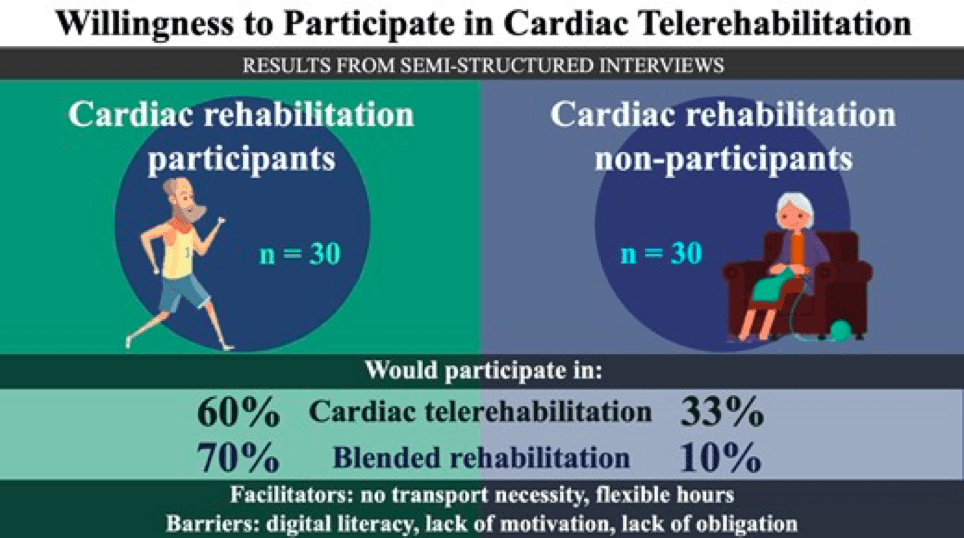 For cardiac rehabilitation non-participants telerehabilitation will only partly solve the problem of low participation rates and blended programmes might not offer a solution. Cardiac rehabilitation participants are more prepared to participate in telerehabilitation and blended CR. Digital literacy was in both groups mentioned as an important barrier, emphasising the challenges for healthcare and local governments to keep educating all types of patients in digital literacy.
Read more at: https://academic.oup.com/ehjdh/advance-article/doi/10.1093/ehjdh/ztab091/6408443?login=true
References: 
Maarten Falter, Martijn Scherrenberg, Hanne Kindermans, Sevda Kizilkilic, Toshiki Kaihara, Paul Dendale, Willingness to participate in cardiac telerehabilitation: results from semi-structured interviews, European Heart Journal – Digital Health, 2021;, ztab091, https://doi.org/10.1093/ehjdh/ztab091