By Ahmed El-Medany
Presented by:
Dr Fozia Ahmed, Consultant Cardiologist, Manchester Heart Centre
The Digital Innovation in Cardiology session at BCS 2021 was a fascinating and inspiring insight into the technology available in various areas of Cardiology and covered exciting digital prospects for the future.
Dr. Ahmed discussed TRIAGEHF PLUS, a risk-based digital heart failure (HF) care pathway, designed to help optimise the care of HF patients with implanted devices. There are currently around 920,000 individuals with HF in the UK, with approximately 200,000 new diagnoses annually, at a cost of ~2 billion pounds to the NHS. Not only are the number of diagnoses increasing per year, but there is a clear increase in the number of HF hospitalisations. Moreover, restructuring of HF services since COVID-19 have led to the replacement of traditional face-to-face clinics with telephone or virtual assessments, thus leading to a lack of clinical data that is ordinarily assessed during in-person assessments.
The speaker explained that our current approach to heart failure is mostly reactive, acting when decompensated patients have already presented to hospital services, and that implanted devices provide the opportunity for earlier intervention to prevent hospitilisation (Figure 1).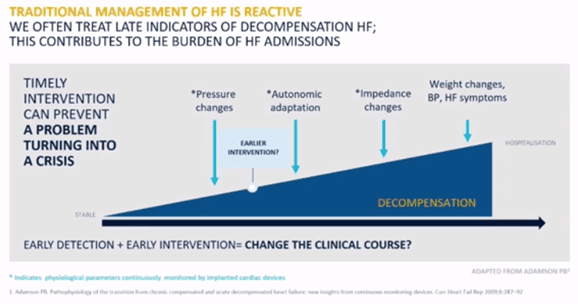 Figure 1: Taken from Dr Ahmed's presentation at BCS 2021. Originally adapted from Adamson 2009. Graphical presentation of traditional HF management in the context of the disease's clinical course.
Medtronic's TRIAGEHF [TM] generates an algorithmic risk level for patients using a variety of device -detected parameters (Figure 2) to calculate an individuals' 30-day risk for HF hospitilisation. When a 'high' risk is generated, the patient's clinical team is notified. The health-related data collected can also detail an informative clinical picture before the patient is reviewed, by highlighting specific problems such as reduced mobility, increased heart rate variability, and changes in % Ventricular pacing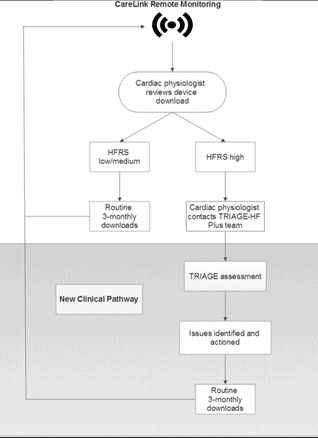 Prospective data from TRIAGEHF [TM] has shown a nine-fold increase in 30-day HF hospitilisation in 'high-risk' vs 'low-risk' patients1. Furthermore, although high-risk alerts accounted for only 10.6% of total alerts, they consisted of 60% of all HF hospitalisations and experiencing any high-risk episode was associated with a significant increased risk of death (OR 3.07, 95% CI 1.57-6.58, p=0.002)[1].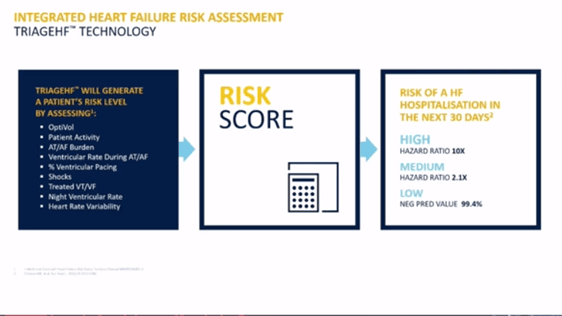 This excess in hospitilisation and death prompted the creation of the 'TRIAGEHF PLUS' digital care pathway for heart failure patients in Greater Manchester (Figure 3); 'The PLUS denoting the downstream telephone consultations that occurred in response to the high HF risk status' stated Dr. Ahmed.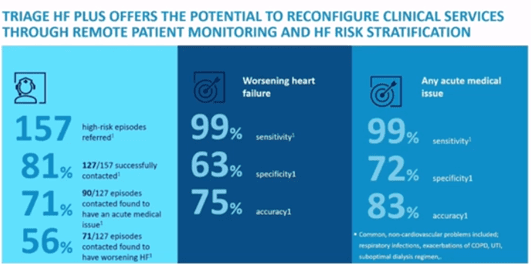 The results from their triage pathway can be found in Figure 4.  'TRIAGEHF plus allows us to circumvent those artificial boundaries that have previously existed between primary and secondary care, to deliver specialist care in a home environment, virtually' the speaker surmises. 
References
Ahmed FZ, Taylor JK, Green C, Moore L, Goode A, Black P, Howard L, Fullwood C, Zaidi A, Seed A, Cunnington C. Triage‐HF Plus: a novel device‐based remote monitoring pathway to identify worsening heart failure. ESC heart failure. 2020 Feb;7(1):108-17.
Links
Full session available On Demand: https://bcs2021.co.uk
Triage‐HF Plus: a novel device‐based remote monitoring pathway to identify worsening heart failure – Ahmed – 2020 – ESC Heart Failure – Wiley Online Library